AUDIENCE PERCEPTION OF THE PORTRAYAL OF WOMEN IN TELEVISION COMMERCIALS
Keywords:
Audience perception, Portrayal of women, TV Commercials
Abstract
This study examined audience perception of the portrayal of women in four selected TV commercials in Owerri. The objectives are among others, to examine the frequency of Owerri TV viewers to commercials that used female models and find out the perception of Owerri TV viewers about the portrayal of women in TV commercials. The survey research method was used in this study and structured questionnaire was the instrument used for data collection from a sample size of 369 respondents who are Owerri-based TV commercial viewers. Findings showed that the majority of Owerri TV viewers have a negative perception about the way women are portrayed in television commercials and sex appeal, dressing mode of female celebrities, wrong role interpretation and existing stereotypes held against women all combined in varying degrees to affect the perception of Owerri television viewers about the portrayals of women in television commercials. It was recommended that there should therefore be less emphasis on the sensuality of the women and more emphasis on their humanity and what they can do and future researchers should examine how TV viewers perceive the representation of women in TV commercials in other localities in the country.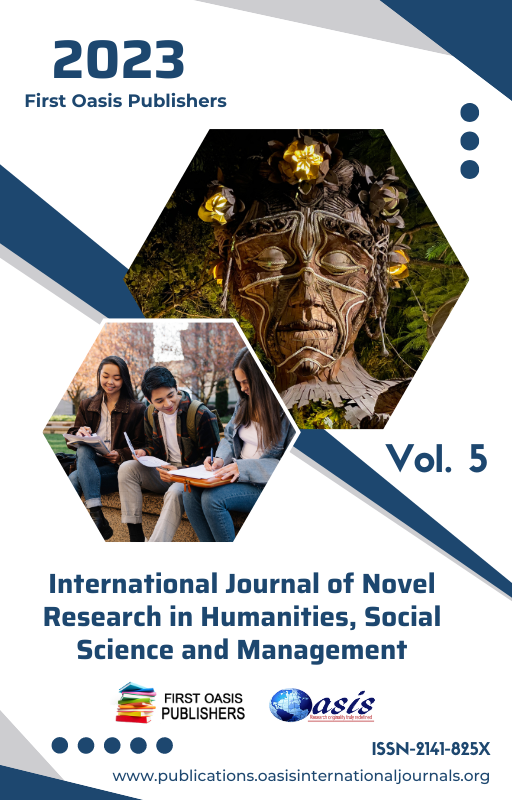 Downloads
How to Cite
Nwamara, C. A., Igbozuruike, C. J., & Edet , A.- abasi I. (2023). AUDIENCE PERCEPTION OF THE PORTRAYAL OF WOMEN IN TELEVISION COMMERCIALS. International Journal of Novel Research in Humanities, Social Science and Management, 5(1), 1–14. Retrieved from http://publications.oasisinternationaljournal.org/index.php/Ijnhssm/article/view/57
License
Copyright (c) 2023 Nwamara, Chinedu Aloysius (Ph.D), Igbozuruike, Chigozie Jude (Ph.D), Edet Aniekan-abasi Ibenge
This work is licensed under a Creative Commons Attribution-NonCommercial-ShareAlike 4.0 International License.