IMPACT OF FAKE NEWS AND SENSATIONALIZATION ON THE PROSPECT OF MAINSTREAM MEDIA IN NIGERIA
Keywords:
Fake News, Sensationalisation, Main Stream Media
Abstract
The researchers investigated the prospect of the traditional media houses in the face of this common trend of sensationalism in journalism to redirect the upcoming journalists toward the proper method of news presentation and dissemination. The study used a survey research method to study selected residents in Asaba who are a constant media audience. The research instrument for data collection. The data were presented and analyzed using a simple percentage table method from where it was found that the Nigerian media largely get involved in sensational reporting and much more than that figure (77.1%) also related fake news with sensational reporting, insisting that they have the same implications in journalism. The majority (57.9%) of the audience believe that fake news with sensational reporting is unethical and unacceptable, and for both of them, the biggest possible effect of sensational reporting on the prospect of the media organization in Nigeria is that both can lead to loss of credibility and its potential to incite crises and other social issues. It was recommended that the incidence of fake news and sensationalism will be reduced if ethics and laws of journalism should be given prior consideration in journalism schools and other higher institutions to make students know its importance in serving society in an objective, efficient, and effective way.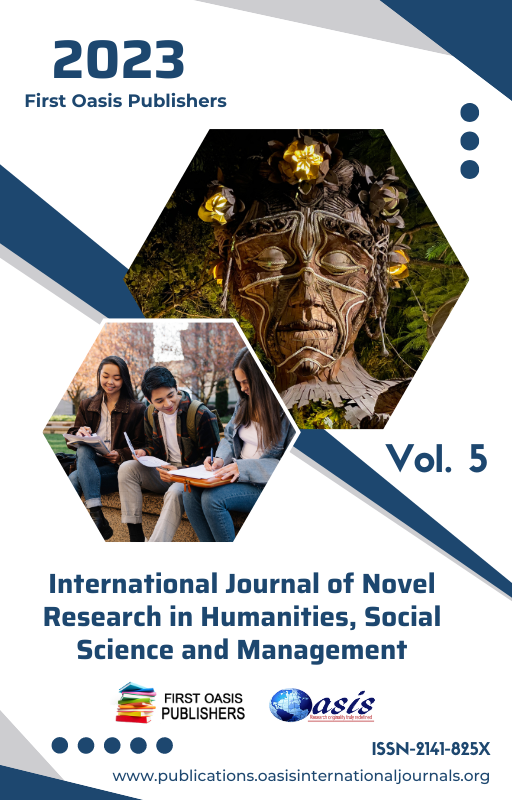 Downloads
How to Cite
Etem-Martins, C. C., Nwamara, C. A., Ohaji , K., & Igbozuruike, C. J. (Ph.D). (2023). IMPACT OF FAKE NEWS AND SENSATIONALIZATION ON THE PROSPECT OF MAINSTREAM MEDIA IN NIGERIA. International Journal of Novel Research in Humanities, Social Science and Management, 5(1), 50–61. Retrieved from http://publications.oasisinternationaljournal.org/index.php/Ijnhssm/article/view/60
License
Copyright (c) 2023 Etem-Martins, Chioma C., Nwamara, Chinedu Aloysius (Ph.D), Ohaji, Kelechi, Igbozuruike, Chigozie Jude (Ph.D)
This work is licensed under a Creative Commons Attribution-NonCommercial-ShareAlike 4.0 International License.