PRESENTERS' FASHION SENSE AND AUDIENCE PREFERENCE FOR TELEVISION PROGRAMMES IN UMUAHIA
Keywords:
Presenters, Fashion Sense, Audience Preference, Television Programmes
Abstract
Over the years, presenters of television programmes are seen by the audience of such programmes as idols as their adeptness in programme presentation in their media houses not only make them popular but also make them acceptable and most times admirable by the audience of such programme. This empirical study is positioned to investigate the fashion sense and appearance of television presenters as it influences the audience's preference for such television programmes. This study was anchored on the lookism theory. The researchers of this study made use of survey research methods to elicit the responses of Umuahia-based respondents who are frequent television viewers to ascertain if the presenters' fashion sense does in any way affect their choice of television programme selection. This was achieved through the administration of structured questionnaire copies to a sample size of 384 respondents who represented the larger population of Umuahia residents. The data generated was presented using a frequency table and simple percentage formula for easier understanding. It was found among other things that there is a significant relationship between the presenter's appearance and fashion sense and preference for the selected TV programmes among the audience, but there are other variables that influence programme viewership more than the appearance of the presenters. It was recommended that, among others, producers of unpopular programmes can revive their programmes by paying reasonable attention to presentation variables such as the presenter's speech mannerisms, appearance, and fashion sense.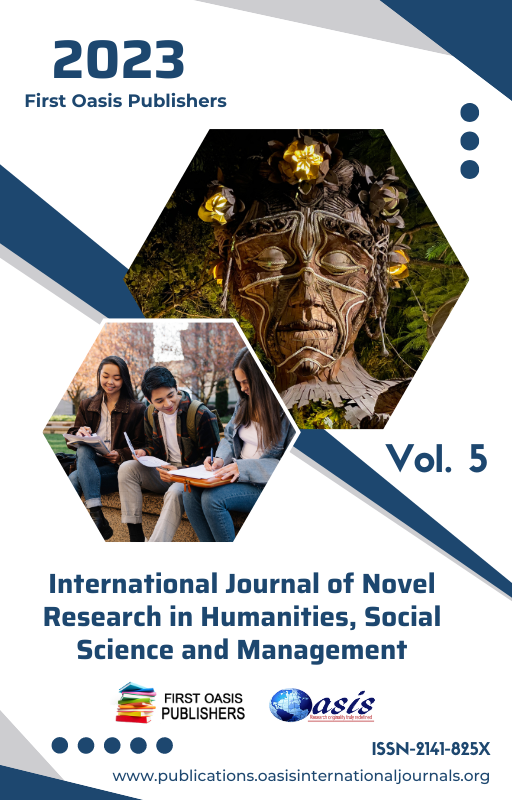 Downloads
How to Cite
Igbozuruike, C. J., Nwamara, C. A., & Marculey, S. U. (2023). PRESENTERS' FASHION SENSE AND AUDIENCE PREFERENCE FOR TELEVISION PROGRAMMES IN UMUAHIA. International Journal of Novel Research in Humanities, Social Science and Management, 5(1), 77–92. Retrieved from http://publications.oasisinternationaljournal.org/index.php/Ijnhssm/article/view/62
License
Copyright (c) 2023 Igbozuruike, Chigozie Jude (Ph. D), Nwamara, Chinedu Aloysius (Ph.D), Marculey, Samuel Uche, (Ph. D)
This work is licensed under a Creative Commons Attribution-NonCommercial-ShareAlike 4.0 International License.